ENGLISH COURSES IN ENGLAND. English courses Hastings

The School of English at Hastings College boasts highly qualified tutors, friendly and helpful staff, convenient lecture rooms equipped with audio and video players, a wonderful atmosphere. The students have access to the internet and to the language centre where they can study on their own after classes. Beautiful location at the seaside, vast gardens, sporting facilities and other attractions certainly will not allow the students who choose Hastings as the place to study English to be bored.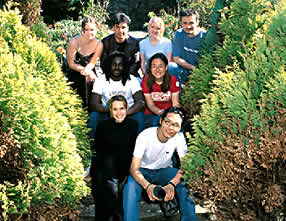 HASTINGS
This town, known above all from history lessons, lies on the south coast of Great Britain. It has a direct train connection with a nearby Brighton and London. Today it is a popular seaside resort with a moderate climate. The town centre houses many bars, pubs, cinemas and discos. It is a town large enough to be interesting and small enough to allow for peace and quiet.
About the courses
Students are placed in groups according to their level of proficiency. They may choose to learn in the mornings or in the afternoons. The lessons are conducted in an interesting way and allow for developing all four language skills: speaking, writing, reading and listening. The courses teach the students new vocabulary and help them to improve the accent. Individual problems can be dealt with by the student himself in the language centre after classes or with the help of a teacher. The lecturers are open to the group's suggestions and prepare the classes in such a way that they fulfil the students' expectations. Often the course serves as a preparation for further studying at Hastings College or Hastings University.

ACCOMMODATION OPTIONS
The students usually live with host families where board - breakfast and dinner - is provided. All families live in the vicinity of the school or the city centre and are regularly visited by the school's representative, which guarantees high standards of the accommodation. Hastings College also offers help with findinga flat to rent and by obtaining a visa, medical services or any other issues connected with the stay at Hastings College.
LEISURE PROGRAMME
The participants of English courses in Hastings may take part in events whose aim is to integrate the learners. Sometimes these are free of charge, in other cases they are offered at a minimum possible price. A wide choice allows everybody to find something that would suit them. Apart from events such as barbecues, film evenings, tennis, volleyball and other sports, karaoke or the day of international cuisine, trips to Amsterdam, Paris, Disneyland and Scotland are organized.
GENERAL COURSE OF ENGLISH
15 hours of classes per week
Improving speaking, reading, writing and listening comprehension
Developing vocabulary
GENERAL COURSE OF ENGLISH + 6 hours
Preparation for the IELTS exam
Listening and conversations
PREPARATORY COURSE FOR THE IELTS EXAM * course not available in 2018
Preparation for the IELTS exam
THE ENGLISH SPECIALIZED COURSE * course not available in 2018
English for teachers
English for nurses and male nurses
Medical English

Standard courses
(Price per week)

1-5 weeks

6-12 weeks

12-24 weeks

25-30+ weeks

General English

16h

£150

£145
£140
£135
General English

22h

£185
£175
£170
£165
Entry fee
£100
£100
£100
£100
| | | |
| --- | --- | --- |
| Special Packages | 12 weeks | 6 weeks |
| General English 16 hours per week | £770 | £950 |
| General English 22 hours per week | £1500 | £1900 |
| | | | |
| --- | --- | --- | --- |
| Cambridge Key (KET) | Cambridge Preliminary (PET) | Cambridge First Certificate (FCE) | Cambridge Advanced (CAE) |
| £50 | £55 | £85 | £90 |
Accommodation with a host family
(Price per week)
Single room
Double room
Fee outside the summer season
£120
£97
Christmas and New Year
£145
£125
Fee in the summer season
£130
£108
The fee for the stay during Christmas
£60
Fee for preparing accommodation
£60
Advance

(Price for 1 week)

£60
| | |
| --- | --- |
| Transfer from the airport | |
| Gatwick | £145 |
| Heathrow | £165 |
| Stansted | £200 |
| Latency time (per hour) | £50 |
All fees should be paid at least 4 weeks before the start of the course. Students of other courses will be informed about further steps they should take after completing the application form.
How to become a participant in an English course at Hastings College?
All formalities related to travel, booking, transit, etc. You can make it in person or by mail at the LEXIS Language School or at our Agent. After choosing an English course, accommodation and other services, you fill in the application form, sign a contract and pay the appropriate amount in PLN to our bank account. The application form, one copy of the contract and payment confirmation are sent to us by post or fax so that we can get the parcel two weeks before the start of the course (people from other cities contact the Agent).

SEE THE OFFER OF COURSES FOR SPECIAL PURPOSES IN HASTINGS
INTERNATIONAL BACCALAUREATE IN HASTINGS FOR FREE

Recommend us to a friend
mail to us - we will send you a cost calculation
see other schools' offers