Canadian College of English Language (CCEL) - Vancouver 2018
Not Available in 2018

The Canadian College of English Language invites the world to study English in Canada. Vancouver's outdoor lifestyle and cosmopolitan flair make it the perfect destination to study English.
SUMMER CAMPS FOR CHILDREN AND TEENAGERS
CANADA - general information
Canada is a beautiful country taking up one-third of North America. It has almost 40 mln citizens.
Canada is a multicultural country with very interesting tradition. Students from abroad have the opportunity not only to learn English but also experience unforgettable adventure. Canada consists of 10 provinces and 3 constituencies. The biggest cities are: Toronto, Vancouver, Ottawa and Montreal.
Western Town Colleges are situated in Vancouver and Toronto.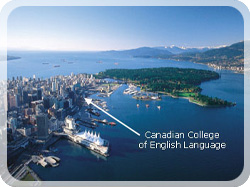 VANCOUVER
It is a beautiful harbour city surrounded by the mountains, forests and beautiful sandy beaches. CCEL in Vancouver is situated in the city centre. From the windows of the school an impressive view on the mountains and the ocean spreads. Vancouver is a place where many cultures from different sides of the world meet, which makes the city interesting in every possible aspect. Although the city is live both in the day and in the night, it is very safe there.
Programs offered by CCEL:
Intensive (14 -25 years)/Super intensive general English (18-25 years+)
This program is for people from beginner level to advanced level. People participating in intensive program have 24 classes per week. People participating in super intensive program have 30 lessons per week. In addition you can buy 1 or 2 classes in the afternoon and devote it to mastering the material which is the most problematic. Thematic scope of the material which can be done during the afternoon lessons is very vast. It can be for example classes improving the opportunity to communicate, pronunciation, reading, preparation to TOEIC, TOEFL,IELTS,FCE,CAE, CPE examinations, expanding business vocabulary, idioms, slang, public speeches, English in media, Canadian culture studies.
General courses may last from 1 week to 52 weeks and start each Monday.
TOEFL, TOEIC Exam Preparation Program (18-25 years)
Cambridge exam preparation lasts from 10 weeks to 12 weeks, 24 classes per week. TOEFL and TOEIC exam preparation starts each Monday and may lasts unlimited number of weeks. Until afternoon course participants are mastering general language knowledge and examination techniques. During afternoon classes students work on the most problematic issues. Students can sit for Cambridge exams during winter session (December), spring session (March) and summer session (June). TOEFL exam may be taken at any moment in CCEL examination center online. TOEIC exam dates are flexible. Teachers who carry out those courses have many years of experience in teaching English as a second language. They are up to date with the newest trends in methodology and modifications introduced to exams.
Semester English courses (18 -25 years)
All conditions concerning theses courses are the same as in the case of standard, intensive and super intensive courses. Semester courses last 12,24,36 or 48 weeks and constitute a perfect solution for people wishing to achieve Proficiency level or prepare themselves to enter higher studies in English. One year consists of 4 semesters.
Business English (25 years+) in Canada
This course is for people aged 25 and older. Course participants study 18 hours per week in groups up to 9 people. Classes take place on the special business floor in comfortable conference workrooms. Teachers who carry out the courses have been chosen because they have a lot of experience in work with businessmen. Lessons start every Monday.
Internship Program in Canada
CCEL may arrange internship as an extra expansion of business course. Course participants may work in Canadian companies provided they are experienced in the field they would like to have internship in. Internship is treated as a full time job from Monday to Friday and may last from 1 week to 4 weeks. Duration of Business English course must be the same as duration of internship.
The course participants also have access to many commodities intended fo the use of businessmen: they can use fax, internet, conference rooms with its equipment (in case they want to organize a meeting or a presentation), they may rent a mobile phone, laptop, a car, buy a card for international telephone calls. It helps to maintain a contact with co-workers from home country and making business contacts in Canada.
Summer courses for kids and teenagers
(14 -18 years)
During summer courses participants have English classes and in the afternoon an organized sports and entertainment program. The courses start every Monday in July and August and may last 2,3 or 4 weeks. Price includes registration fee, airport transfer, classes fee, accommodation with a host family in a room shared with the other participant of the course (3 meals a day). During weekends there is an option of trips in which participants may take part in.(more in the link at the bottom of the page)
Individual classes English in Canada (25 years+)
Materials to these classes are chosen individually according to participant's needs. Teacher evaluates the level of participant's knowledge, his advantages and plans further teaching accordingly. Individual classes may be booked for unlimited number of weeks and unlimited number of hours a day.
ACCOMMODATION in Canada
Homestay
Concerning accommodation with the host family the course participant has 2 possibilities:
A) single room , shared bathroom with the host family, 2 meals a day.
C) single room with private bathroom 2 meals a day
Homestay with a Teacher (14 -18 years)
The course participant lives with the family of which one member is an English teacher. English teacher has 2 individual classes with his charge.
Student Residence in Canada
The course participants may have accommodation at CCEL residence in the city center. There are single rooms, bathrooms are shared with other students living on the floor. You can cook in shared kitchen. Accommodation in student residence may be booked both for short term courses and long term courses.
Airport Pickup
A college staff person can meet the student at the Vancouver airport and drive them to the Canadian College in the city centre where they are introduced to the Homestay family.
Prices of the English courses in Canada 2018
Prices in CAD
Course
Start dates

Weeks/other

Price per week
Intensive English

Exam preparation

Academic exam preparation

Business English
Part-time ESL (18 lessons/week)
Every Monday
-
260
Full-time ESL (28 lessons/week)
1 - 11
350
12 - 23
330
24+
310
Intensive English (38 lessons/week)
1 - 11
400
12 - 23
380
24+
360
Super Intensive (28 lessons in group + 5 individual lessons/ week)
1 - 11
615
12 - 23
575
24+
565
Business Management & Co-op Diploma
04.01, 04.04, 04.07, 03.10
18-months programme + books
11150
Business Management Certificate & Co-op
12-months programme + books
8100
Business Fundamentals Diploma
9-months programme + books
12250
International Business Certificate
6-months programme + books
8650
Business Administration Certificate
3-months programme + books
5200
Individual lessons
-
random
70/lesson
Prices of accommodation 2018
Prices in CAD
| | | | |
| --- | --- | --- | --- |
| HOMESTAY | Price for night | Price for week | Price for 4 weeks |
| Shared (2 meals/day, 3 meals in weekends, shared bathroom) | 45 | 220 | 880 |
| Single (2 meals/day, 3 meals in weekends, private bathroom) | 55 | 300 | 1200 |
| | |
| --- | --- |
| Student apartments | Price per month |
| Shared room, shared kitchen | 850 |
| single room, shared kitchen | 1150 |
| studio (two beds) | 1800 |
| Accident fee | 200 |
Other charges 2018
Prices in CAD (all fees include Canadian taxes)
Application Fee (non-refundable)
150
Accomodation Placement (non-refundable)
230
Medical Insurance
75/month
Ariport greeting by CCEL staff
110
Ariport greeting + drop off CCEL staff
160
eh! Card (Student Meal Card) - eh! Restaurant is placed on 2. floor
100$ (value 125$)
200$ (value 250$)
The school will be closed on the following days: 1st of January, 8th of February, 25th & 28th of March, 21st of May, 2nd of July, 6th of August, 3rd of September, 8th of October, 9th of November, 24th and 25th of December
How to become a student at Canadian College of English?
All issues concerning the course, booking, arrival, journey etc. may be settled in person or by mail at College of Foreign Languages "LEXIS" or with our Representative. When you choose the course, accommodation and other services you are asked to fill in the application form, sign the contract and pay the agreed amount in PLN on our bank account "LEXIS". The application form, one copy of the contract and confirmation of payment should be sent to us by mail or fax, so that we receive it 2 weeks before the course starts (persons from other towns contact our Representative).
Before you leave you will receive:
ˇ confirmation of the admission to the course together with a special letter for the border authorities in Great Britain so that you do not have any problems entering Great Britain,
ˇ ticket for your journey - if you leave from Warsaw (persons leaving from other cities in Poland contact our Representative),
ˇ confirmation of the booking of your accommodation together with the address, telephone and short characteristic of the host family,
ˇ bill for all services you paid for.
SUMMER CAMPS FOR KIDS AND TEENAGERS
Contact us - we will send you costs calculation
Recommend us to a friend