English in the Republic of South Africa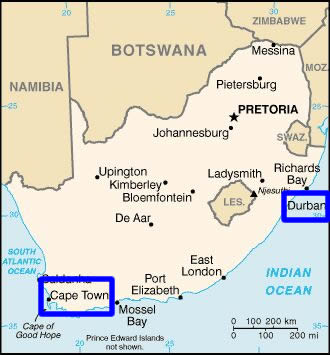 The Republic of South Africa is divided into 9 provinces and occupies an area two times bigger than France and five times larger than Great Britain. It is characterised by the beautiful and varied land formation.

The Cape Province in the west is the fourth biggest province in the RSA. It has a exotic, colourful scenery and is characterised by a mixture of cultural . You can find here beautiful beaches, fishing villages, historical towns, vineries and the famous Garden Route with lakes, mountains and forests. The most famous is of course the Table Mountain, rising from Cape Town. From the mountain top (1087 m above sea level) you can admire the spectacular view of the city.
Cape Town is considered as one of the most beautiful cities of Africa. You can see there an interesting mixture of architectural style reflecting the local culture and traditions of many generations of inhabitants who influenced the city's development: Edwardian and Victorian edifices, Dutch architecture, cobbled streets, mosques, Cape Malay Quarter and the magnificent Waterfront. Next to the big, elegant shopping centres you can find there great choice of restaurants with wonderful local wines.
Durban is famous for its mild climate all year round, which makes it an ideal holiday destination. It is the biggest and the busiest port on the continent. At dusk the exquisite and cosmopolitan Durban bustles with life. You can spend the evenings in elegant restaurants, clubs or theatres - it is truly an African metropolis.

Courses in Cape Town